Kmart Consumer Laptop Bags
This project began in 2008 during a conference call with Kmart executives to discuss the possibility of selling $30-50 laptop bags aimed at 18-35 year old trendsetting consumers.  The product would be sold in Kmart's retail locations across the country and through their online store.  During our meeting, several ideas were proposed, and I sketched a thumbnail of each.
Initial Ideation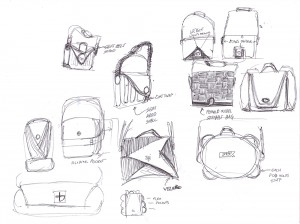 Research
I performed some market research in this category to determine which products were selling best and what fashion trends were emerging at the time.
Concept Sketches
After I identified the areas to explore, I generated eight concept renderings to review with my business partner:
Presentation Boards
We selected four concepts to present to the customer, and developed presentation boards for our meeting:
Dimensioned Drawings & Samples
Kmart liked three of the four concepts, so we contracted with a manufacturer in China to produce some samples.  Here are the design drawings I sent them, and two of the three resulting samples:
Ultimately this project ended up not making it to market.  Kmart was struggling financially at the time and abandoned most new product development, including these bags.  The project briefly gained new life when we changed material specs and met with executives from Gucci to discuss an arrangement.  Ultimately, we could not come to an agreement that satisfied all parties, so for now, the samples are the only products produced.